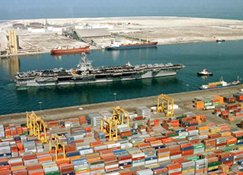 Importers of Building Construction Materials, Equipment's and Machinery in Kenya and East Africa.
Since early history, Dubai has occupied an outstanding position on the trade map of this region. It has always been a flourishing business centre, and its Creek has played a major role in this respect. The Creek has constantly been an important and a safe harbour for small and medium size ships which sail to the ports of the Arabian Gulf region, the countries of the Indian Subcontinent and East Africa, loaded with different goods which are re-exported to these various regions.
Dubai is known as the City of Merchants due to its deep-rooted trading traditions which are based on the freedom of practicing business in addition to being a business link between the East and the West. It has acquired this position for several reasons which can be summarised as follows:
Firstly: It occupies a strategic competitive location in the middle of the UAE coast stretching along 400 miles. Its distinct location in the south-western part of the Arabian Gulf enables it to play an active trading role in linking the maritime lines on one hand, and transporting easily the goods between the East and West on the other hand.
Secondly: Dubai has strengthened its distinguished strategic location by pursuing a free and balanced economic policy that has given it a good reputation in the international commercial and economic communities, which in turn has encouraged national and foreign capitals to enter into successful investment ventures in different commercial, industrial and service fields.
Thirdly: Dubai has boosted the importance of its strategic location and substantiated its free economic policy by setting up complete infrastructural projects along with other services and utilities. Dubai has put in operation these facilities with high efficiency which had an immediate and positive impact on growth rates in the economic sectors, social developments and improving living standards.
The economy of the Emirate is based on two main activities namely non-oil trade and oil producing and exporting. Dubai has witnessed during the last three decades a rapid growth of its trade and industrial activities. It is the most important centre for imports, exports, and re-exports in the region. During the last two decades it has embarked on a strategy aimed at strengthening its industrial sector to diversify its revenue base. It has established heavy industrial projects in the Jebel Ali Free Zone, and privately-owned sector medium and small manufacturing industries achieving some kind of self sufficiency in some commodities and the surplus is exported to overseas markets.
Africa, a traditional trade partner of the United Arab Emirates, has once again emerged as a strong market. Trade between Africa and Dubai has been registering a steady growth in the last few years as more and more African countries adopt free trade policies and realise the importance of Dubai as an international trading hub. South Africa, for example, has emerged as a trustworthy business partner in the last few years. Similarly, countries in East Africa namely Kenya, Uganda, Tanzania are fast emerging as potential markets for Dubai. Not to mention several other African countries that have started sourcing their requirements for consumer and capital goods from Dubai – these include Sudan, Libya, Egypt, Eritrea, Congo, Zimbabwe, Senegal, Botswana, Mozambique, Rwanda, Ethiopia, Mali, and Nigeria to name a few.
– Abdul Rahman G. Al Mutaiwee Former Director-General Dubai Chamber of Commerce and Industry
Importers in Africa of :
Building & Construction Material, Eqpt. & Machinery
Mining
Tiles & Marbles
Interiors & Lighting
Sanitary Ware
Tools & Hardware
Air Conditioning
Water Technology
Safety & Security
Woodworking
Importers of building and construction materials, equipment's should not miss the 15th BUILDEXPO, international trade exhibition on Building& Construction Materials, machinery and equipment's which is being conducted in Nairobi, Kenya in May 2011.