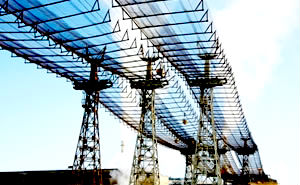 Kenya has floated tenders for the construction of five one-stop border posts, raising hopes for faster trade flow with neighbouring countries.
The Kenya National Highway Authority said Thursday the facilities would be constructed at Lunga Lunga, Malaba, Busia, Taveta and Isebania as part of the East Africa Trade and Transport Facilitation project.
Bids for the tenders are scheduled to be opened on October 21 and successful bidders required to conclude construction work within 15 months.
East African Community Affairs PS David Nalo said the all-under-one-roof customs houses would harmonise transit clearance procedures.
"The essence of this concept is to have officers from both countries sit under one roof and handle transit documents concurrently in order to save on time," he said.
Currently, traders in the region are hampered by strenuous customs clearance procedures in which goods are inspected separately by officers on either side of the border leading to massive delays.
This situation often leads to corruption because impatient truckers and traders resort to offering bribes to jump queues or expedite clearance of their cargo.
Analysts said the harmonisation of customs clearance routines on common borders would cut back on processing time and substantially reduce the cost of doing business.
"It makes no sense to be cleared on one side then be subjected to a repeat process on the other end. It is expensive in terms of time and we hope the new posts being created will deal with this matter comprehensively," Mr Abdul Mohammed, a cargo transporter told the Business Daily by phone.
A pilot one-stop-border post facility erected on the Kenyan border with Uganda at Malaba has already yielded success story with its backers such as the World Bank calling for its replication.
Prior to the establishment of the facility, truckers required two days to clear with customs officials on the common border but this has since been slashed to an average two hours or less owing to the joint handling of documentation. "The other five concepts will be seeking to replicate the success story from Malaba and spur trade across other borders," Mr Nalo said. "The results from the facility on our border with Uganda have proved that this is the way to go."
Importers in Kenya of:
Automobile Industry
Building Material
IT & Telecom
Food & Hotel Supplies
Industrial Machinery
Consumer
Printing & Packaging
 Plastics & Rubber
Medical & Health Care
Great platform for Importers in Africa to meet exporters of the above mentioned categories at the 15th Kenya International Trade Exhibition at KICC, Nairobi, Kenya from November 26-28th, 2011.
For more details visit: http://expogr.com/expokenya