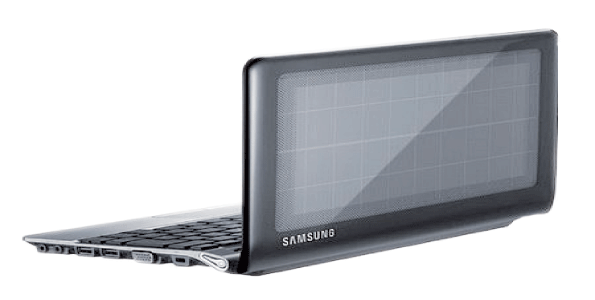 South Korean electronics maker Samsung has launched a solar powered laptop in the Kenyan market with the capacity to run for 15 hours, nearly double the seven to eight hours lasting power of rivals .
Kenya was among the key markets that Samsung picked for the global launch that also targets consumers in the Middle East, Europe and Asia
Korean electronics giant Samsung has launched a solar powered laptop in the Kenyan market targeting thousands of potential consumers currently locked out of the computer revolution by lack of electricity.
Kenya, with a large rural population that is not connected to the national power grid, is among the few countries Samsung picked for the global launch that began last week.
The Samsung Netbook NC215S lap top is priced at Sh35,000 and is also targeting consumers who are connected to the national electricity grid but suffer erratic power supply.
The solar-charged laptop is loaded with a front cover panel that captures energy from the sun and automatically recharges the battery. When fully charged, the lap top can run for up 15 hours – nearly double the capacity of its closest competitors that have seven or eight hours stand-by capability.
"With Netbook NC 215S Samsung is demonstrating its capacity to bring to the consumers technology that satisfies their needs and takes care of the environment," said Samsung Electronics East Africa Business Leader Robert Ngeru.
The Korean firm is building consumer electronics and mobile technology for sub-Sahara Africa where it set a $10 billion revenue target by 2015. Samsung's sub-Saharan Africa market is currently worth $1.23 billion.
Launch of the Netbook NC 215S comes as Kenya's four mobile telecoms firms, Safaricom, Airtel, Telkom's Kenya Orange and Essar's Yu have intensified their activities in the data market and are looking for affordable internet enabled devices such as laptops and mobile phone handsets to expand the number of data users.
Growth of the data market is particularly critical to the long term survival of the telecom operators who have had to contend with steep decline in voice revenue in the past couple of years.
Samsung is among the hardware vendors who have partnered with Safaricom in the laptops market.
Available only in black, the netbook's solar panel can also be used to charge a smartphone, MP3 player and other devices via its USB port, even when the PC is switched off or in power-saving mode.
The Netbook NC 215S also features an ultra-portable and stylish design, weigh–ing just 1.3kg and featuring a slim display rim that is as thin as a finger.
The new solar powered Netbook will be launched in Russia, the U.S, Europe, and South Korea this month.
Importers of I.T., Electronics, Telecom , Computing, Communication, Information Technologies, Satellite Products in Tanzania
The 15th ITELEXPO International Trade Show is taking place at Diamond Jubilee Hall Exhibition Centre, Dar es Salaam, Tanzania
from 24 – 26 September 2011.
It is a great platform to meet Importers in Africa of I.T., Electronics, Telecom & Satellite Products
For more information details visit http://expogr.com/tanzania/telecom