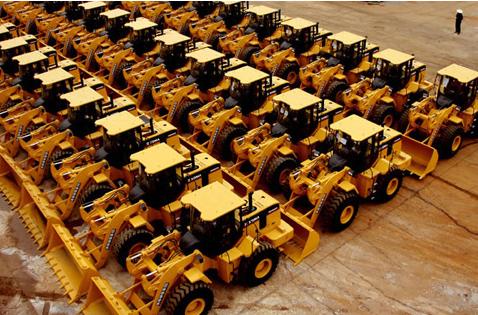 Rwanda has become the latest beneficiary of China's foray into East Africa as the Asian giant seeks to control the region's  economic landscape, also targeted by Japan and India.
China last week gave Rwanda $15.7 million to boost trade between the two countries. Rwanda will receive half the amount as a grant and the remaining 50 million yuan as a five-year interest free loan, said Gao Hucheng, Chinese Deputy Commerce Minister and international trade representative.
Chinese firms are increasingly making strategic entries into Kigali, targeting mainly infrastructure projects. China will send an expert group to Rwanda for a feasibility study of a 25km road construction project in the capital city of Kigali, financed by the Chinese government.
Chinese engineers are also expected to construct a new ultra-modern clinic in Masaka, a suburb of Kigali.
Kigali for its part is sending a delegation to China, led by Prime Minister Bernard Makuza as it seeks to attract investment from the world's second largest economy.
"We are beginning to see requests from China after a visit last year. We have another trip planned for November and this is to try to attract more Chinese investors into Rwanda," John Gara, the chief executive officer of the Rwanda Development Board, the institution charged with promoting investment in the country, told The EastAfrican last week.
"China is also one of the few countries where RDB has an office (in Shenzhen) and it has proved useful," he said
A July 2011 International Monetary Fund report on Rwanda shows foreign direct investments decline from $118.7 million in 2009 to $42.3 million last year.
RDB is targeting at least $500 million in new investments both local and foreign in 2011.  "In the past, we have been promoting Rwanda in a more general way, but now, we are not only targeting certain companies, but also targeting projects," Mr Gara said.
While Asian investment is steadily rising in the country with the RDB registering 20 companies from the region within a period of six months this year with an estimated value of $16.5 million, Chinese investment is still relatively low compared with India. Between January and July this year, Indian investments were estimated at $9.2 million, mainly in agro-processing, manufacturing and administrative and support service sectors, while Chinese projects amounted to $5 million, mainly in tourism, construction and manufacturing sectors.
"The figures for Chinese FDI are not yet as high as we would want them to be, but certainly we are beginning to see interest," Mr Gara observed.
Chinese ambassador to Rwanda Shu Zhan said while the country has registered tremendous progress in improving its business environment, including setting up a One-Stop Centre for registration, the "paperwork" is just one aspect of the whole investment environment needed to attract investment.
"The regional situation, especially the uncertain stability of the Great Lakes Region, also affects on the confidence of investors. Rwanda still has room
to improve the investment environment, for example, by offering tax breaks," he said.
Trade between the two countries doubled to $76.4 million in the first half of this year compared with the same period last year.
"There are various areas of interest such as telecoms, mining and engineering. More than 100 such entrepreneurs have already visited Rwanda to get a better understanding of the environment," he said.
According to Standard Bank Group Ltd, Chinese investment in Africa may grow by 70 per cent to $570 billion by 2015 from 2009, while blateral trade will double to $300 billion by 2015. Chinese firms, led by state-owned China National Offshore Company (CNOOC) are some of the major players in the oil exploration business in East Africa.
Importers of Building, Construction, Interiors & Architecture materials in Kenya
The 15th BUILDEXPO International Trade Show is taking place at KICC, Nairobi, Kenya from May 05 – 07th, 2012.
It is a great platform to meet Importers in Africa of Building, Construction, Interiors, Furniture, Lighting, Mining & Water industry.
For more information details visit http://expogr.com/buildexpokenya