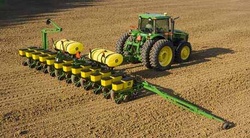 Iringa residents have been challenged to adopt modern farming to develop the country through the Southern Agricultural Growth Corridor of Tanzania (SAGCOT). The challenge was issued by the executive secretary of the Tanzania National Business Council, Mr Dunstan Mrutu, during a meeting with the Iringa Regional Business Council members where matters pertaining to investment in modern agriculture were discussed.
The meeting that took place in Iringa Municipality was attended by regional and district leaders. Mr Mrutu said district business councils were responsible for economic development in their respective areas, advising them to accept big investment expected in the near future through SAGCOT under the Rufiji Basin Development Authority.
"SAGCOT and Agriculture First initiative complement each other as both aim at achieving the proposed green revolution in Tanzania," Mr Mrutu said.He said TNBC has decided to make district agricultural councils active throughout the country in a bid to speed up development.
SAGCOT is one of the government's initiative and an integral part of the Agriculture First vision which seeks to attain a green revolution.According to experts, if properly implemented, SAGCOT could feed the East Africa region and become a major agricultural produce exporter, to rival the likes of Brazil.
SAGCOT is supported by a public-private partnership of global agriculture businesses, international development agencies, farmers' groups and the Tanzania government. SAGCOT seeks to link farmers to modern supply chains and make agriculture a profitable venture in a country where over 75 per cent of the population is engaged in farming.
He added that there are some investors eyeing to establish a tomato juice plant in Iringa to use tomato grown in Ilula area.Speaking after the meeting, the Ludewa DC , Ms Georgina Bundala, said her district supports Agriculture First (Kilimo Kwanza)  initiative.