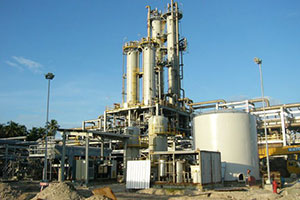 Mega gas plant in Tanzania
Tanzania's Minister for Energy and Minerals, Professor Sospeter Muhongo has revealed that the government intends to invest at least 30 billion USD towards the construction of a mega gas plant in Tanzania in Lindi area.
The minister said the government has already embarked on the Mega gas plant in Tanzania and that residents of Lindi and the entire Tanzania fraternity should expect an economic change in the next few years. The minister was speaking when he officially launched the Nanenane exhibitions at Ngongo grounds in Lindi municipality.
"I would like to ensure Lindi residents and Tanzanians in general that our economy is going to grow at a high speed, we are going to invest at least 30bn USD in the construction of gas processing plant," he said.
However, Professor Muhongo appealed to the public to remain calm as the government continues to set plans in place for the mega project in Tanzania. He added that the project is likely to take several years to complete because it requires large amount of money, highly skilled and experienced labor and good supervision.