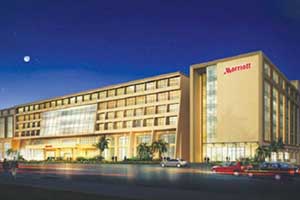 Marriott International, Inc. which is an American multinational company has opened a new hotel in Rwanda-this is their first property in the East African country.
The new hotel in Rwanda dubbed Kigali Marriott Hotel is the newest property under their signature name and it is located in the CBD of Kigali. Its design is a unique one as it is stirred by the lush hillsides, flowering trees, winding boulevards and busy streets of one of the cleanest and friendliest cities in Africa.
President and Managing Director, Marriott International Middle East and Africa, Mr. Alex Kyriakidis, confirmed the news and said that they were very excited to open a new property under their name outside Southern Africa where they have most of their properties.
"We are thrilled to be opening a Marriott Hotel in Rwanda and we believe that the property will play a very vital role in catering for the desires of business and leisure tourists in the region. Marriott is dedicated to the Southern African market and our speedy expansion clearly shows our belief in the continent's booming economies," Mr. Kyriakidis said.
He further pointed out that their growth will not only benefit them as a company but will also support the creation of job opportunities for locals and hence add to Rwanda's economic vision for developing as a travel destination.