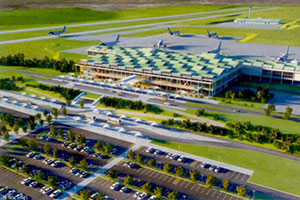 Mota-Engil, the African division of Portuguese construction firm has announced that it has signed a deal to build an international airport in Rwanda at a cost of $818-million, the company and government officials said.
The construction of thew new Bugesera International Airport was mulled in 2011 when it was first announced that the government was seeking for private sector to design, build, finance, maintain and operate the airport through a 25-year concession.
The first phase of the airport, would cost $418-million and is expected to start in June next year and be completed by December 2018.The airport is part of a wider plan by Rwanda to attract tourists as well boost Rwanda as a conference destination.
"The first phase is for 1.7-million passengers a year capacity and it gets all infrastructure associated for $418-million," Mota-Engil Africa CEO Manuel Antonio Mota told reporters late on Thursday after signing an agreement with government officials.
According to Mota-Engil the second phase costing $400-million was expected to raise the airport's handling capacity to 4.5-million passengers a year.
The existing international airport in the capital Kigali has an annual capacity of 1.6-million, according to the Rwanda Civil Aviation Authority, though it has little scope for expansion.
"Bugesera International Airport is coming in at the time when it is badly needed because we all know that the current airport capacity is not matching the growth of our traffic in terms of aircrafts, in terms of passengers," James Musoni, Rwanda's minister for infrastructure, said.