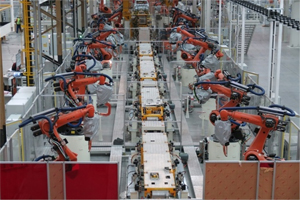 As part of the new major investments in the Uitenhage factory, 320 new robots have been installed at Volkswagen Group South Africa's (VWSA) Body Shop.
The estimated R4.5 billion investment announced last year has been allocated to the upgrade and refurbishment of production facilities and quality (R3 billion), development of local supplier capacity (R1.5 billion) as well as development and training of employees (R29 million).
The 320 new Kuka robots installed at the Body Shop form an integral part of the Modular Transverse Matrix (MQB) platform which will be used in the Uitenhage factory.
"The Kuka robots will perform monotonous, high-precision work which will allow Body Shop employees to focus on tasks which require the human involvement," said Thomas Schaefer, chairman and managing director of Volkswagen Group South Africa.
"The introduction of robots will improve the ergonomics in the Body Shop as it reduces strain on our people. The introduction of the specialised robots into the Body Shop paves the way for higher volumes and even better quality," added Schaefer.
The new robots are energy efficient and faster. Additionally, they have advanced sensory capabilities which improve safety. The technology currently being installed at the Uitenhage factory will enable Volkswagen to produce more than one model on one single assembly line.