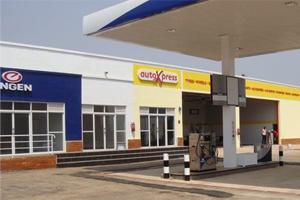 Engen Petroleum has announced its collaboration with AutoXpress in Rwanda to test customer response to a new mini vehicle services offering.
AutoXpress brings together lubricant bays, tyre changing and balancing as well as exhaust services. As such, it offers Engen the opportunity to showcase its lubricant products and extend a new level of professionalism in vehicle maintenance to customers who visit Engen service stations in Rwanda.
Damon Giraudeaux, convenience sales and marketing manager in Engen's International Business Division believes that this new offer presents significant value to both Engen and AutoXpress.
"The concept was developed by AutoXpress, and allows Engen to make a real statement by providing vehicle owners with a trusted network of services conveniently available at Engen service stations."
Engen has a presence in 18 countries spread across sub-Saharan Africa and the Indian Ocean Islands. Of the 14 member SADC (Southern African Development Community) countries, Engen operates in Botswana, DRC, Lesotho, Malawi, Mauritius, Mozambique, Namibia, South Africa, Swaziland, Tanzania, Zambia and Zimbabwe.
General manager of Engen's International Business Division, Drikus Kotze says: "The early signs have been extremely positive. We are looking forward to building this partnership in Rwanda and in the other SADC countries where we operate."