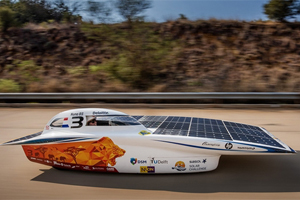 The V&A Waterfront in Cape Town was the scene of celebration as 11 teams from all over the world crossed the finish line after successfully driving 27,000km collectively on public roads on solar power alone during the 2016 Sasol Solar Challenge.
Driving SA on solar powerDutch team Nuon won the Challenger class after completing 4,716km, breaking the four-year-old record of 4,630km and beating Japanese team Tokai by 172km.
"We're really excited – we already started celebrating in traffic as we came into Cape Town when we suddenly realised that we'd won. The team that is here has been working on the car for years, so they were very emotional," said Sarah Bennink Bolt from the Nuon team.
The Dutch team had to have a perfect day to stay ahead of strong competitor Tokai, which set the record in 2012 and won the World Solar Challenge numerous times in the past.
"Tokai was really good last year in Australia at the World Solar Challenge, and while a lot of people thought we were a shoo-in for the Sasol Solar Challenge in SA, it wasn't obvious to us," said Bennink Bolt. "We had to work very hard to beat them – they came out strong this year."
With new regulations set for the global competition, all the teams will use the South African event to build new vehicles for the 2017 challenge in Australia, which is shorter than the Sasol Solar Challenge.
In SA, five teams held their own against tough international competition. North-West University finished fourth with 3,524km under their belt, high school team Maragon Olympus from Pretoria beat the University of Johannesburg by just 40km.
"We are very proud of the fact that our Sirius x25 solar car, travelled through the whole of SA without once being put on a trailer," Jimmy Pressly of the North-West University team said. "We plan on keeping the flag flying high by competing in the Bridgestone World Solar Challenge in 2017 with a new, better car."
North-West University's 28man team had to work long hours to come back from an accident during track testing just before the challenge began.
Another remarkable achievement was celebrated when high schoolers Maragon Olympus crossed the finish line in seventh place, narrowly beating the University of Johannesburg. "Beating University of Johannesburg is an enormous achievement for us as a school. This would not have been possible without the efforts of the whole team," team manager Marinda Jordaan said.
"With a lot of persistence we pulled it off. What the future holds for us as a school participating again is under discussion, but the Solar Eagle will likely retire to a museum after the 2016 Sasol Solar Challenge."