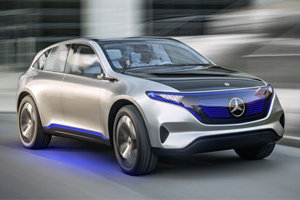 At the Paris Motor Show, Mercedes-Benz unveiled its new product brand for electric mobility: EQ. The name stands for 'electric intelligence' and encompasses all key aspects for customer-focused electric mobility and extends beyond the vehicle itself.
Mercedes-Benz claims that EQ offers a comprehensive electric mobility ecosystem of products, services, technologies and innovations. The spectrum ranges from electric vehicles to wallboxes and charging services to home energy storage units.
The new brand is heralded by the close-to-production concept vehicle 'Generation EQ', which celebrated its world premiere in Paris. The first series-produced EQ model will be launched in the SUV segment before the end of this decade. There will be a strategic product initiative that will gradually augment the portfolio of Mercedes-Benz Cars with electric models.
"The electric drive is the future. That's why we're investing massively in a battery-electric fleet and in battery technology – including as an energy store for private and industrial use. With EQ, we're going a step further. Under this brand, we're bundling our entire know-how regarding intelligent electric mobility from Mercedes-Benz," says Ola Källenius, member of the board of management of Daimler AG with responsibility for Mercedes-Benz Cars Sales.
The EQ portfolio will encompass all future battery-electric cars as well as the associated products and services from Mercedes-Benz. In this way, the inventor of the motorcar is providing a simple and transparent means of orientation for customers within its expanding portfolio.
Mercedes-Benz already offers charging infrastructure for electric cars, including a wallbox as a fast-charging station for the home, the free app 'Charge&Pay' for recharging at public charging stations as well as – for home-owners and businesses – stationary energy storage units for the power generated by photovoltaic or solar systems. These products and services will in future be bundled under EQ. In this way, Mercedes-Benz says it is creating a consistent and clear image for sustainable products and services with the star.
With the looks of a sporty SUV coupé, the 'Generation EQ' is part of a completely new generation of vehicles with battery-electric drives.
"The new generation of electric vehicles will be based on an architecture developed specifically for battery-electric models, which is scalable in every respect and usable across all models. It is suitable for all model series as well as sub-models, such as SUVs, saloons and coupés. Wheelbase and track are variable," says Prof. Thomas Weber, member of the board of management of Daimler AG responsible for Group Research and Mercedes-Benz Cars Development.
Two electric motors on the front and rear axles produce a total output of up to 300 kW, depending on configuration. In combination with the intelligent operating strategy from Mercedes-Benz, the 'Generation EQ' has a range of up to 500 kilometres.
Featuring a completely new design, the battery-electric models will have their own distinctive 'electro-aesthetic' styling. This will include a new shape of radiator grille together with a new light signature. The interior, too, comes with the new 'electro-aesthetic'. The control and display concept for 'Generation EQ' dispenses with traditional switches, except for the electric seat adjustment typical of Mercedes.
In the driver-oriented cockpit, the focus is on simple, touch-based control. According to the company, the digital user experience differentiates the Generation EQ from the familiar control logic of today's vehicles, while giving a peek into the future of user interaction at Mercedes-Benz.