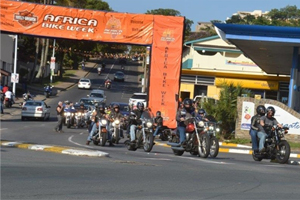 Harley-Davidson Africa has announced that Africa Bike Week 2017 will be taking place at the all-new location of Buffalo City Metro in East London from 27 April to 30 April 2017.
New location announced for Africa Bike Week 2017In its ninth consecutive year, Africa Bike Week is known to be the the largest free motorcycle event in South Africa.
According to Harley-Davidson, entertainment will be a highlight of the event with live performances by a host of top bands and entertainers. Other highlights include the largest mass ride in Africa, exhibition of the latest Harley-Davidson motorcycles, free demo rides, stunt shows, custom bike shows and many other exciting activities for Harley riders, enthusiasts and families.
As in previous years, Africa Bike Week is open to all Harley-Davidson riders and enthusiasts, riders of all motorcycle brands, as well as all other visitors.