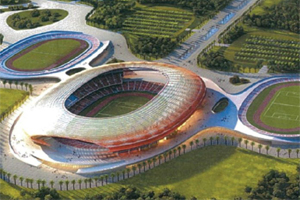 Construction of what will be the largest sports complex in Cameroon is to be constructed at a cost of US$ 143b in readiness of the Africa Cup of Nations in 2019.
Cameroon's Economy Minister, Mr. Louis-Paul Motaze, confirmed the news and said that Largest sports complex in Cameroon will be constructed by a Turkish company- Yenigun Construction; he said this during the signing of the project financing agreement in Yaounde.
"A Turkish company by the name Yenigun Construction will construct the complex which is expected to cost approximately US$ 143bn with 75 percent of the project being financed by the Turk Eximbank," said Mr. Motaze.
The sports complex dubbed Japoma Sports complex will accommodate up to 50,000 seats, it will constitute of a sports hall, an Olympic swimming pool, a handball court, gym, a large pool, two training courts, tennis courts, an annex of the national Football Academy, a shopping centre and landscaped area.
The project is expected to be delivered four months before the beginning of the African Cup of Nations which will take place in the country in 2019.
Yenigun Construction confirmed on its website that the contract for the project was signed in December 2015.
"We signed our first contract in Cameroon, Douala Japoma Stadium Project where we signed a contract in December 2015 for the project regarding construction works of the Stadium with a capacity of 50,000 spectators. We tender our kind gratitude to our colleagues for their effort in the award of this project and wish success for our project team," their website read.
Ambassador of the Republic of Turkey said that this is the first time a Turkish company will carry out a project of this scale but they are not worried since it has expertise and has had to prove otherwise.
The mega sports complex is anticipated to be completed within 18 and 22 months.