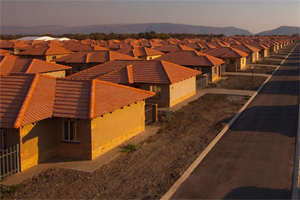 The Windhoek City has agreed to enter into negotiations with a South African construction firm fronted by a Namibian businessman to construct 79 houses at Khomasdal.
Details about the deal are included in council documents that were made available to the public recently.
The city has directed the department in charge of property management to negotiate with the joint venture between South African construction company Amibex and Oluzizi engineering and construction which is owned by businessman Simon 'Tupac' Andjamba.
Although this project is being praised by some at the city for doing what the municipality ignored in several years by entering into building houses, there are discrepancies on why the venture was hand-picked instead of offering a public tender so as to test the market for best conditions and deals.
In this case, the joint venture won the deal after making a presentation to start negotiations, amid allegations that the joint venture won the race for this project because it has connections to a manager in the office of the mayor.
In fact, documents show that the proposed negotiations come after the two companies paid an all expenses trip to South Africa on 15 to 16 September 2016 for city councilors Moses Shiikwa, Immanuel Paulus and Brumelda Cornelius to inspect the type of houses built by the company.
The city's land delivery executive Steven Hochobeb and building inspector Israel Kahiurika were also part of the trip to the city of Tswane.
This is one of the projects that is expected to change the face of the city and more so the housing which has been on the negative limelight in the past years.
The government however has said that they will set more funds to ensure that the housing shortage in the country is catered for.