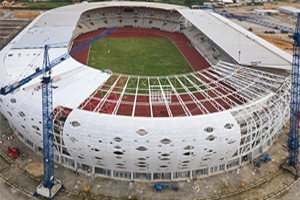 Tanzania is planning to construct an ultra modern stadium in Dodoma; this is after King Mohamed VI of Morocco met with President John Magufuli and pledged to support.
A signing ceremony was witnessed at the State House in Tanzania that also comprised of a good number of Morocco companies ink agreements with major players of Tanzanian private sector.
President John Magufuli confirmed the reports and said that the newly planned stadium will be the biggest in the country followed by 60,000 seater National stadium in Dar es Salaam and CCM Kirumba in Mwanza which as a 35,000 capacity. It will cost between US$ 80m to US$ 100m.
"The stadium will be the largest in Tanzania- bigger and better than the current national stadium and will cost between US$ 80m to US$ 100m," President Magufuli said.
He added and said that construction of the state-of-the-art stadium will help improve the whole sports sector, especially soccer in the region.
However, there were no further details from the president in regards to the capacity of the project, neither the date for the construction, but he insisted and said that the Morocco Monarch had indeed made a promise.
"I had a tete-a-tete with the visiting King VI of Morocco and I asked him if he can help build a stadium in Dodoma of which he agreed to it," Mr. Magufuli pointed out.
The agreement of the stadium construction is part of 21 partnership agreements signed between the two countries, during the King's visit to the country as they seek to strengthen ties. He was marking the second stop of his three-state tour of Eastern Africa in Rwanda, Tanzania and Ethiopia accompanied by a delegation of senior officials, including several ministers.