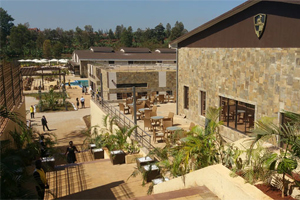 Wadi Degla Holding has opened the doors to its massive Ksh2 billion Sports, Social and Leisure club in Runda following the completion of construction works by a team of Kenyan and Egyptian engineers.
The club, located in Runda, off Kiambu road, now becomes the first to open of three clubs that Wadi Degla Clubs is building in Nairobi , part of a KSh10 billion investment by the Egyptian corporation.
Wadi Degla Runda club is a multi-sport facility inspired by modern Egyptian architecture described by Kiambu Governor William Kabogo as "a club and place like no other, set to introduce new lifestyles around sports, family and business".
Wadi Degla wraps its club philosophy around the family to deliver a "lifestyle where business, sports, family and opportunity exist together". This philosophy informs the design of the club as a daily destination embedding an everyday family club lifestyle in members.
Welcoming the Wadi Degla Clubs to Kenya, two of which are set in his Kiambu county- Mr. Kabogo said he was impressed by the club's sheer size, quality of workmanship and the many modern new sports facilities that had come with the Wadi Degla Runda club.
"We approved this mega project about 8 months ago. Even though there are stadiums and small private sports clubs we believe the time is ripe for large clubs such as Wadi Degla. We are pleasantly surprised by the transformation and foresee immense benefits to Kenyans."
Dr. Wario who congratulated Wadi Degla Holding and Chairman Eng. Adel Sammy on the completion of their first club in Kenya said: "President Uhuru Kenyatta is very excited with the coming of Wadi Degla Clubs to Nairobi.
This investment does more than just strengthen long standing relations between Kenya and Egypt. It advances shared aspirations of our people for better standards of living and access to better opportunities," he said.
The club features facilities for Football, Tennis, Squash, Swimming, Ping Pong, Basketball and Athetics as well as premier health facilities like Gymnasiums, Angsana Spa, Sports Café, Business Lounge, Kids Pool, Recreational Pool, Training Pool, Restaurants among many others.
Typically, families pay a one off lifetime membership which gives them access to all facilities. That membership gives them not just exclusive access to all other Wadi Degla Clubs in Nairobi but also those around the world.
Wadi Degla Club Kenya Country Director Mr Joseph Reda said:"We are a club that is dedicated to bringing the finest of things and give opportunity to our members to live a lifestyle they deserve that caters for all aspects of their lifes; family, fitness, leisure and much more.
It is a daily lifestyle and there will always be something for each member of the family to do everyday".
Wadi Degla Clus is expected to open a second club in Kiambu's Migaa estate which is currently under construction and a third in Karen's Mamba Village during 2017.