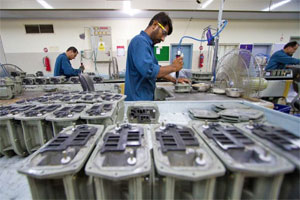 Kaduna Electricity Distribution Company said it would build a US $250 million meter manufacturing plant in Nigeria Kaduna area before the completion of 2016.
Managing Director, Mr. Garba Haruna, made the revelation at the flag-off of the supply of 20,000 free smart electricity meters to consumers in Kaduna region.
Haruna said the plant would improve accessibility of electricity meters in the firm's franchise states of Kaduna, Kebbi, Sokoto and Zamfara.
He stated that a site had already been secured and work would soon start to establish the plant.
According to him, the objective is to meet the company's goal of dispensing 500,000 meters to its consumers in the subsequent five years.
He further added that indigenous production of the meters would add value to electricity circulation in the nation.
"This will also lessen the price of importing some of the components for manufacturing the meters for our franchise states and the nation.
This will also generate more employment openings for graduates and other supporting staff," Haruna said.
The Managing Director said the meter manufacturing plant would also aid the firm to effectively reduce the cost of teaching its technical staff. He said that, with the plant, consumers would not have to wait for months for their meters to be fitted.
On his part, the Chairman of the company, Alhaji Yusuf Hamisu appealed to the Federal Government to introduce a strong fiscal policy to help stabilize the nation's currency. The Nigerian economy is currently going through a recession.
Hamisu said the unpredictability of the Naira had affected the corporation's import strategies of some key components for electricity circulation, thus making it a tad difficult to offer effective services.
The Chairman also noted that the present value of US dollar in the market has made the arrangement not viable.