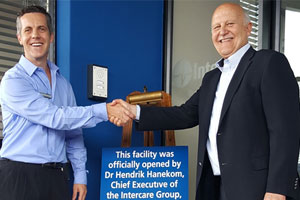 Internationally, the cost effective and flexible nature of urgent care centres is attracting sizable patient pools. According to a transparency market research report: Urgent Care Centers Market – Global Industry Analysis, Size, Share, Growth, Trends and Forecast, 2014-2020, the global urgent care centres market stood at US$23,5bn in 2013. It is predicted to reach US$30,5bn by 2020.
With the markets segmented into Europe, North America, Asia Pacific, and the rest of the world (RoW), North America led the global market in 2014, trailed by Europe. In terms of RoW countries, exponential market growth is predicted for Mexico, South Africa, Israel, UAE, and Turkey in forthcoming years.
Given this trend, Intercare has opened an urgent care facility in Northriding, Johannesburg aimed at providing immediate treatment for minor injuries and acute illnesses, without the need to make a doctor's appointment or visiting the hospital ER.
The standalone facility offers a wide range of medical and nursing services. A pharmacy is located within the centre, and x-rays and blood tests can be done onsite.
Designed by architecture firm, Deoplan, the urgent care facility is a state-of-the-art centre strategically located on the corner of Witkoppen Road and New Market Street in Northriding to service residents, crèches, schools, office parks, and factories in the Northriding, Fourways and surrounding areas. The facility is open for extended hours, 365 days a year.