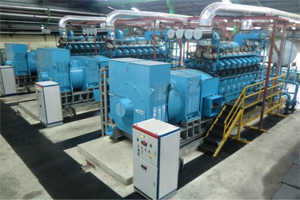 Liberia's President Ellen Johnson Sirleaf has commissioned a 10MW Heavy Fuel Oil power plant, which has now lit the Snow Hill community in Gardnerville.
The US$27m power plant is located at the Liberia Electricity Corporation (LEC) to Bushrod Island outside Monrovia. However, Japanese government has been the major sponsor of the project through the Japan International Cooperation Agency (JICA).
President Sirleaf admitted that, the government cannot do everything. However, she is optimistic that her administration's commitment will ensure that critical projects like energy are well implemented for the benefit of the public and the nation at large.
According to President Sirleaf, the Mount Coffee hydropower plant rehabilitation project will come online by December 2016 with an aim of increasing energy generation capacity.
"I am pleased to see some of the communities including Kesselly Boulevard, Snow Hill and its environs being connected to electricity," said President Ellen Johnson Sirleaf. "This will improve the living condition of the people," she added.
Moreover, the newly commissioned HFO power plant is expected to bring power operated by LEC to 38MW in total. LEC is currently operating below 28MW. According to LEC officials they have confirmed that at the moment the power utility is operating below 28MW, but pledged that by September 2016, an additional 10MW will be in operation with the assistance of the Japanese government.
"And by mid-December this year, there will be additional 22MW to make it a total of 60MW to boost the country's energy capacity," said one of LEC officials. Nonetheless, the public electricity firm is aiming to achieve a total of 88MW of power and an increase of 24MW of power over pre-war status.
Japan's ambassador to Liberia, His Excellency Yoshimura said that, the rehabilitation of the power system as well as many other projects currently being undertaken is a clear demonstration of Japan's commitment to realise a "Quality Africa".