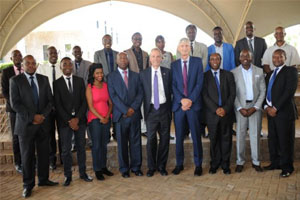 A satellite city development on 2,500 acres near Nairobi is sponsoring two students who are studying Real Estate & Construction Management (RECM) for a two-week construction study tour in London.
Two students, Naomy Wangari and Nyaila Achieng, both from the University of Nairobi were named the overall winners of an "ideas competition" which gave the students an opportunity to contribute to the master plan of Tatu City's Central Business District.
The competition focused on four subjects, namely Identity, Retail Concept, Transport and Public Spaces and was held in conjunction with Skidmore, Owings & Merrill (SOM), the U.S.-based architecture, engineering, and urban planning firm which has master planned the Tatu City CBD.
Skidmore, Owings & Merrill (SOM) is one of the leading architecture, interior design, engineering, and urban planning firms in the world. Known as a leader in the research and development of specialized technologies, SOM's involvement in the competition gave the students great exposure with the best in the architectural industry.
Nick Langford is the Country Head for Rendeavour, Tatu City's owner, and developer. "It is important for us, as an international developer, to localize our projects, and the students have provided a Kenyan view on our plans."
The U.S. Ambassador Robert Godec presented the awards to the students at the U.S. Embassy in Nairobi.
The two-week, all-expenses-paid study tour will allow the winning students to work alongside globally renowned master planners and architects in the offices of SOM in London.
Langford said, "The levels of talent exhibited by all the students are highly commendable and for those who will not be traveling to London we are offering select opportunities for internships at Tatu City this year."