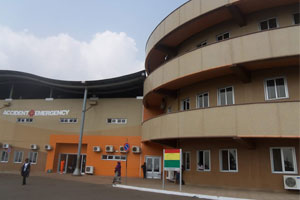 A US$ 300m health facility is set to be constructed in the northern part of Ghana by The Komfo Anokye Teaching Hospital (KATH) which is the biggest health facility in the northern part of the Ghana.
The new facility named, 'Medical Centre of Excellence' and to be christened "KATH TOWER", is a joint venture project between KATH and Kudaar Ark Investment, it will be made up of a 20-storey medical structure and is anticipated to provide first class medical service to the citizens.
The Chief Executive Officer of the hospital, Dr. Joseph Akpaloo, who disclosed the information, said that construction of the project will commence this year after a few conclusion of arrangements with the private investors.
Dr. Akpaloo was very pleased with all that is happening in the organization; however, he reminded the workers that the facility could achieve its corporate vision only when they were disciplined, customer-centred and avoided waste in system. He applauded the hospital's board, management and staff for the hard work which had helped to improve the quality of healthcare to patients.
The management is also committed to continue to take measures to ensure discipline and improve work ethics in the organization through strict analysis of the biometric and fingerprint attendance registration system which it had earlier introduced.
Komfo Anokye Teaching Hospital (KATH) is the biggest health facility located in Kumasi, the Regional Capital of Ashanti Region with a total projected population of 4,780,380 (2000).
The geographical location of the 1200-bed Komfo Anokye Teaching Hospital, the road network of the country and commercial nature of Kumasi make the hospital accessible to all the areas that share boundaries with Ashanti Region and others that are further away.
Its vision is to become a medical centre of excellence offering Clinical and Non-Clinical services of the highest quality standards comparable to any international standards', within 5 years.