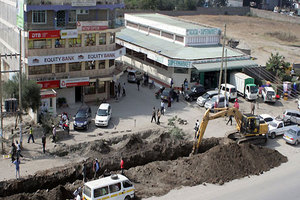 Kajiado County is set to build a three-storey 'ultra-modern' assembly with underground parking for 700 cars for Sh543 million.
The building will encourage public participation and support assembly activities said speaker Johnson Osoi.
He said members of the public will get to hear the debates just as in any modern Parliament.
"The old chambers lacked space for this. The new block will have public and media galleries," Osoi said on Wednesday.
"This is a way to encourage public participation as is required by law."
The new building will also house the administrative offices, MCAs lounge, restaurant, a Hansard office, health club and the speaker's office.
Peter Tirishe (Mosiro Ward), Osoi and MCAs Hosea Toshi (Matapato South) and Daniel Konyango (clerk) said they want to leave a legacy.
They are the new members of the assembly service board.
Osoi said his team will ensure the assembly leaves an indelible mark on service delivery.
"We are geared to discharge our mandate, serve the public in our capacity as the board and ensure the assembly makes a mark as a public institution in the next five years."
The speaker said they are also determined to see the construction of the new assembly completed on time.
"This was our development agenda in the first assembly and we must see it completed."