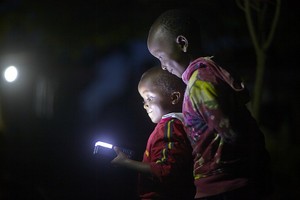 The UK government along with a number of investors have raised Sh8 billion to fund a solar project that will light a million homes in Kenya and Uganda.
Kenya mobile phone-based solar kit reseller, M-KOPA Solar, said the initial Sh5.5 billion denominated in Uganda and Kenya shillings was received from
Dutch development bank FMO (Sh1.3 billion), UK investment agency CDC (Sh2 billion), Norwegian government's Norfund (Sh1.3 billion) and Sh900 million from Stanbic Bank.
Chad Larson the co-founder of M-KOPA said customers will use their assets as security for the solar kits' purchase. This will aid poor families charge phones, light homes, power radio and TV appliances using green energy. The beneficiaries will make repayments via M-Pesa.
"This record-breaking facility being deployed primarily into off-grid households with a per capita income of less than Sh200 a day is a collaborative effort developed by Stanbic and M-KOPA to attract affordable funds denominated in local currency," he said.
A further Sh2.5 billion of the debt came from Symbiotics, responsAbility, and Triodos Investment Management and is denominated in US currency.
CDC chief executive Nick O'Donohoe said their investment was aimed at transforming lives across the region.
Norfund CEO Kjell Roland said: "It is crucial to increase access to energy for development and poverty reduction. Investments in clean energy projects, large-scale power plants as well as off-grid solutions such as M-KOPA, are therefore of high priority for Norfund."