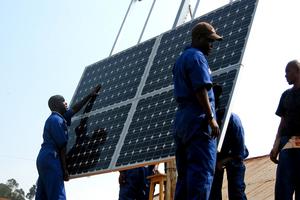 Top officials in the Rwandan government have revealed that the nation is looking to make big investment green economic development projects. Rwanda has a lot of untapped investment opportunities in the renewable energy sources, chief executive officer of the Rwanda Development Board (RDB), Claire Akamanzi at a conference in Kigali.
She stated that Rwanda is are on the lookout for investments in multiple options in the sector.
Rwanda has one clear goal to achieve with renewable power, that being 100 percent access to power nation-wide by 2024.
Edouard Ngirente, Rwanda's Prime Minister presented the administration's action plan to meet this goal in September. According to the plan, the government aims to ramp up electricity production in both on and off-grid forms to ensure that targets are achieved by 2024.
Rwanda will also play host to the international renewable energy event from Oct. 19 to 20 with the aim to advance renewable energy programs for rural electrification and agricultural development.
The meeting will bring together businesses and attractive business propositions in the renewable energy according to organizers.
Rwanda's minister of infrastructure, James Musoni has stated his government's willingness to assist investments and cooperation in renewable energy to meet the requirements of green and clean energy sources in Rwanda.
Musoni further spoke about how Rwanda aims to develop off-grid energy solutions and promote more private-sector investment in the same to meet the energy needs of the country.
Rwanda's current energy generation is at 210.9 MW on the national grid. Of this, hydropower accounts for 48 percent, thermal 32 percent, Solar 5.7 percent and methane-to-power 14.3 percent, according to figures released from the Rwanda Energy Group (REG).
The REG have so far achieved to provide access to electricity to 40.5 percent of the nation's populace with 29.5 percent achieved through on-grid power and 11 percent through off-grid solutions.
A massive investment will be needed for Rwanda to achieve its lofty goal of reaching a generation capacity of 563 MW with the next couple of years.
In May this year, construction was begun on a $350 million peat power plant in the Southern Province, which is expected to provide an additional 80 MW of power to the national grid.
Last year, the country unveiled power plant projects including a mega methane gas power plant project which is expected to produce 100 MW from Lake Kivu, the world's only methane-rich water body, and a 23.7 million dollars solar power plant.