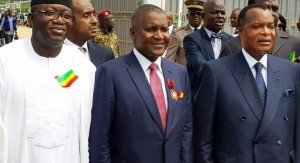 Dangote Cement Plc, Africa's largest cement company, has raised its current efforts for economic emancipation of Africa by opening its 1.5 million tonnes per annum capacity cement plant in Mfila, Congo Brazzaville.
The new plant estimated at $300 million could employ 1000 direct employees and thousands of indirect jobs. While inaugurating the plant, which is the biggest in Congo Brazzaville, President Denis Sassou Nguesso said the investment would be an industrial revolution within the Economic Community of the Central African States (CEMAC).
The Congolese President described the coming on stream of the Dangote cement as timely and encouraging because it is beginning operations at a time the total government revenues have descended by 31.3%.
Mohammadu Buhari, Nigerian President, who was represented at the event by a powerful delegation led by the Minister of Mines and Steel Development, Dr Kayode Fayemi applauded Dangote cement owner, Alhaji Aliko Dangote for the construction of cement plants across several African countries saying the accomplishment makes the Dangote Cement brand, and Aliko Dangote himself, worthy ambassadors of Nigeria.
"I believe that it is only home-grown practical solutions that can address the myriad issues plaguing Africa today and one of such challenges that Africa has been grappling with for decades is the infrastructure deficit. I am confident that massive investments in cement production, which is a key driver of infrastructural development, will contribute in no small measure, to addressing this perennial problem," said Buhari.