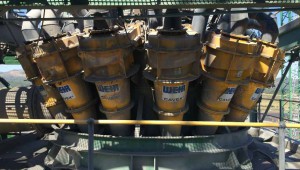 Tharisa Minerals' platinum operation on the south-western limb of South Africa's Bushveld igneous complex has boosted its mill circuit production performance by 36%.
The platinum mining operation achieved this by replacing its cyclones with Cavex hydrocyclones from Weir Minerals Africa, industrial equipment supplier.
The Cavex hydrocyclones allowed the mine to recover an additional 98 oz of platinum group metals (PGMs) each month, raising an additional annual revenue of some US$800 000 – almost R11 million.
With this improved performance, Tharisa's payback period for the cluster of new units was just 29 days.
The Tharisa mine, in production since 2009, produces metallurgical grade PGM concentrate and chemical grade chrome concentrate from a shallow open pit operation. It had been using conventional 510 mm flat-bottom cyclones fitted onto their secondary mill circuit cluster. However, according to the mine, these cyclones were cutting too coarse, were inefficient and were experiencing a low mass split to underflow.
The mine's objective was to allow the secondary mill circuit to improve mass pull to the underflow and produce a much finer cyclone overflow material reporting to downstream flotation and spiral circuit. By providing a finer feed material to flotation and the spiral circuits, PGM and chrome recovery increases significantly.
Using the data supplied by the customer, Weir Minerals Africa generated a mass balance simulation, highlighting the performance capability of its Cavex 500CVX hydrocyclones. These units have a 360° laminar spiral inlet that reduces turbulence within the hydrocyclone, improving performance and classification.