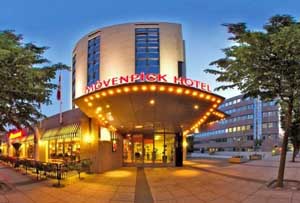 The first Movenpick hotel opened earlier in April in the Westlands of Nairobi and is owned by the Gold Course Hotel, based out of Kampala.
Movenpick's ascent into Kenya comes after the entrance of Four Points by Sheraton in Nairobi and also Kampala and the Radisson Hotel Group which is presently operating hotels in Nairobi and Kigali.
These brands will now go head to head in competing for business travelers conference visitors and other tourists. With the volume of all these demo graphs expected to rise substantially in the coming months.
There are still more global names targeting Kenya to expand their empires this season with Hilton deciding to expand its 153 room Ubumwe Grande Hotel in Kigali, which is currently under the Doubletree brand.
Hilton inaugurated the Garden Inn last march near the Jomo Kenyatta International Airport and the Double Tree in the suburbs of the city as a part of strategy that would see the company spend in excess of USD 50 million in establishing 100 hotels in Africa over a five year period.
Movenpick, the Ascot Group, Protea which is in Tanzania and Uganda, and City Lodge which is in Kenya and Tanzania are also under the process of identifying potential local partners.