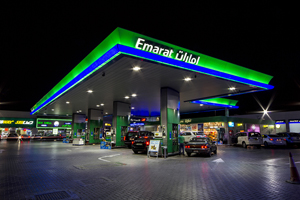 The company has grown over the years to become a leading brand in petroleum on the international stage. With a clear goal in mind, they have achieved a successful corporate hold onto the Middle East with the launch of innovative products and accessories.
Emarat currently cater to the needs of 100 million customers internationally and hope to expand further through the expo.
The company meets the demands of 100 million retail and commercial customers globally on an annual basis. Emarat hope to use Autoexpo 2018 as tool to forward their influence in the East African region as it represents the perfect stage for them to present their products and form new business relationships with interested parties from Africa and beyond.
Autoexpo is set to once again, attract a large audience in excess of the 4800 attracted last year. Companies from 30 countries will bring a diverse range of products to the Kenyatta Convention Center (KICC), ranging from automobiles to lubricants and lots more. The presence of top professionals from across the automobile sector will also make the event an ideal platform for discussions and the exchange of ideas.
Being a sponsor at the 21st AUTOEXPO AFRICA 2018, This Government owned organization will be an excellent contributor and a massive highlight at the EXPO, offering an array of Engine oils, coolants, hydraulic oils, transmission & gear Oils. Along with their products, they can definitely promise you safety, security and durability keeping the 'EMARAT' code of practice and mission in mind.