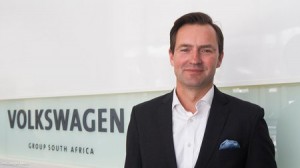 Volkswagen are set to begin the assembly of their vehicles in Rwanda this month. The company's CEO, Mr. Thomas Schaefer provided an update on the latest developments stating that all the equipment has been made ready in accordance to the plans drawn last year.
The company has a strategy in place to tackle the competition posed by the used car market in Rwanda too. Volkswagen will work towards marketing and selling lower price bracket vehicles in Rwanda before turning focus on their high end models. Mr. Schaefer also remains optimistic about export opportunities within the East African region but said that he is skeptical about exporting these cars outside the African continent due to logistical costs involved.
When asked about possible clashes between Volkswagen's two plants in Rwanda and Kenya, Mr. Schaefer revealed that the two plants will work together towards a common goal. The set-up of both plants will be of a complementary nature to each other with the Kenyan plant producing the Polo Vivo, while the Rwandan plant works on a different model.
Volkswagen has also additionally decided to contribute $20 million, with a big percentage of this amount expected to go into production activities. Significant amounts will also be dedicated to the establishment of mobility solutions and assembly solutions.