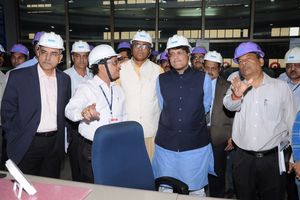 NTPC is India's largest energy conglomerate with roots planted way back in 1975 to accelerate power development in India. It feeds a fourth of India's electricity needs or as they say "NTPC lights up every fourth bulb in the country".
Having operations that match global standards, has led to it being known as one of the most efficient power companies in India. This well-renowned company is participating at the 7th edition of Power and Energy Africa 2018 in Kenya at the Kenyatta International Convention Center (KICC), Nairobi from the 29th to 31st of May, 2018.
With many awards with their name, Best Thermal Power Utility, India Pride Award for Best Performance, Leading Infra Company in Power sector just to name a few, the company hopes that the Power and Energy Africa exhibition will give them a competitive edge to stay on top for the forthcoming years.
Power and Energy Africa provides exhibitors with an opportunity to connect with industry professionals and exchange ideas on new technology and products that allows them to enhance their services offered to their customers. They also get an opportunity to see alternative sources for equipment and parts which enable them to be more competitive.
The Power and Energy exhibition is known as the most premier expo in East Africa. It features not only equipment & technology, but also provides thought leadership platforms for everything related to power and energy. The expo gives companies a platform for showcasing the latest in technology & innovation to a huge audience and layers the relevant audience for the products while also giving extra mileage to products in the right segment at the right place.
For event info and participation kindly visit: http://www.expogr.com/kenyaenergy