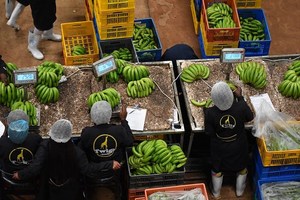 Kenya's mobile-based food delivery firm Twiga Foods would soon receive Sh300 million ($3 million), as a part of an investment plan from the International Finance Corporation (IFC). This initiative is as a part of the company efforts to raise more than Sh700 million from numerous investors.
Twiga Foods which operates a cashless mobile application, where a person can order and pay for fresh vegetables and foods from farmers. This eliminates various middlemen resulting in providing a much lower price and efficient supply chain. However, the stakes taken by IFC and the partners would acquire was not disclosed.
"IFC, acting for its own account is considering to invest a minimum of US$ 3 million (Sh300 million) alongside other investors, including TLCom who will invest up to US$ 4 million (Sh400 million) in the company," the global financier said in an investment disclosure statement.
Currently, the shareholders of Twiga Foods are DOB Equity, Peter Njonjo, Omidyar Network, Grant Brooke, Wamda Capital, Alpha Mundi, Blue Haven Initiative and 1776 Seed Investors.
The company which was launched in 2014, started off matching dealers with banana farmers. Now they have succeeded in other products such as Mangoes, potatoes, onions, Tomatoes, and cabbages. The strategy is to utilize the funds to push up its operation and bring in new initiatives such as credit service.
Till date, Twiga has sold more than 150 million bananas functioning with around 2,500 vendors.
"The project will enhance integration of different stakeholders in the agricultural value chain working towards increasing farmer productivity, In addition, the project could increase access to new services (for example credit) by reducing informality and demonstrating that farmers can be reached in a commercially sustainable way through technology," IFC said.