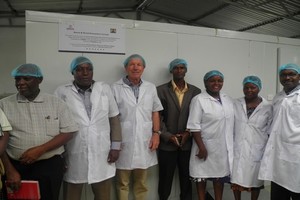 In Kenya, farmers lose a huge amount of food produced due to various reasons, which can be avoided by different means in the agriculture sector. In order to deal with this issue, value addition methods could be used so most of the food that is produced is consumed. As per the statistics, 33 percent of all kinds of food produced by in Kenya is lost owing to superficial and unfair trade practices, which does not let it reach to the consumers.
However, now over 500 small-time farmers in Tharaka Nithi, Meru and Embu counties have come up with a solution in a ready market for their produce. Operated by Sweet 'N Dried Enterprises in Tharaka, Nithi, the air drier allows the farmers to earn more while also creating more jobs.
The founder of Sweet 'N Dried Enterprises, Mercy Mwende praised the facility as a landmark for reaching out markets and increasing income of fresh produce. "Ultimately the markets have warmed up to our dried mangoes, bananas and vegetables. The new facility has also boosted production and we have now been able to source 100,000kgs of fresh produce from farmers, up from 40,000kgs last year." She later added that this would mean more opportunities for the farmers who have been forced to throw away or sell them at a very low price, due to post-harvest losses.
The company has had an encounter with the produced provided by the farmers who are not familiar with the International standards. It is still ensuring that all produce received from farmers meet the growing expectations of the export consumer. The country government has assured the company to provide adequate training to all farmers exporting on international practices also, connecting the facility to the national grid, in order to boost production. This would eventually attract more people especially from the younger generations and modernized agriculture as a way to earn and increase income. This has come as major assistance, as the facility currently operates on diesel generators fetching more expensive to operate.