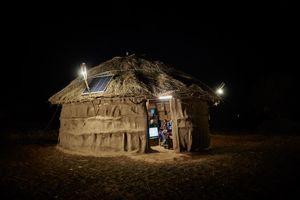 Hanergy Thin-Film Power Group, a multinational clean energy company, has launched the "Lighting Africa" with China Foundation for Peace and Development and Tanzania-China Friendship Association, the project promises to donate the first 100 Humbrellas in October 2018.
Hanergy initiated the philanthropic project called Lighting Africa which was joined by China Foundation for Peace and Development this April in Beijing, aiming to provide environmental-friendly lighting devices to African children to improve their reading time and help the electricity-deprived population in Africa.
The Humbrella was demonstrated in a fully lit condition and was watched by dignitaries such as Song Tao, minister of the International Department of Communist Party of China, Dr Salim A Salim, President of Tanzania-China Friendship Association, Li Chuan and Zhang Xu the Hanergy Kenya sales directors, and more than 700 local residents from Kagera region along with teachers and pupils from the Oysterbay Primary School in Dar es Salaam, Tanzania.
As per a report by the International Energy Agency (IEA)'s, with 880 million people living in insufficient electricity, power shortage has become an important factor that does not allow the development of Africa.
Donating the Humbrella, Li Chuan said, "The Humbrella will surely light up the lives of African children and facilitate the fast-paced development of Africa. The step taken by us to donate Humbrella to Tanzania is the testimony of our commitment to helping the underdeveloped regions of Africa facing power shortage."
Humbrella is a new thin-film solar product developed by Hanergy. Humbrella is covered with thin-film solar panels, weighing 8.8kg and a diameter of 2.7 metres which is available for power generation in both cloudy and sunny days.
Equipped with Integrated functions of electricity storage, off-grid power supply, night lighting and terminal charging, the newly revealed product is expected to store as much as 40000 mAh electricity ensuring a 10-hour high-quality reading time for children, or charging more than ten 3000 mAh smartphones.