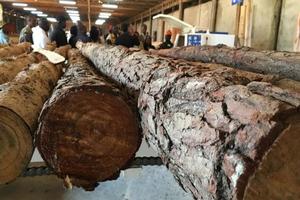 Dar es Salaam : The wood and woodworking industry in Tanzania is on the way to lead the African market. Proving this is a private company – Edosam Hardware, that has planned to create industrial parks, which will house more than 450 furniture factories across the country.
Sources from the Office of The Director of Investments of the National Development Corporation (CND), said that the project will also help the private sector to create and strengthen the industries in this sector and will positively contribute to the economy, investment and trade. It will also attract companies that manufacture wood working machinery to Tanzania and further develop the sector. Companies in Africa and around the world are using platforms like the Afriwood Tanzania which is scheduled in november to showcase the best of woodworking tools, machinery and technology while taking advantage of opportunities generated from initiative like this.
By 2025, Edosam Hardware Ltd. will have built the parks in Dar es Salaam, Dodoma and Mwanza, the company's general manager, Mr. Edward Maduhu, said at a press conference. According to sources, a total of 70 million dollars (about 160 billion shillings) will be injected into projects, with 200 different furniture stores.
The industrial parks will also give an opportunity to customers from various countries to visit and buy under one and the same roof the furniture of their choice. "We want this industrial park to look like Foshan International Furniture Market in China. This will make it easier for customers because they will save money and time searching for furniture, " said Mr. Maduhu.
Benefits of the project will include more than 50,000 direct and indirect jobs that will be created during and after construction, it is a continuation of projects that intend to add value to forest yields and encourage communities to plant trees. Company officers privy to the project details said that they planned to create 300 industries in Dar es Salaam, 100 in Dodoma and 100 in Mwanza, emphasizing that the negotiations with the government bodies has been positive and are headed to a fast conclusion.