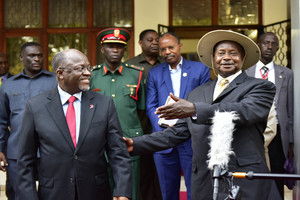 President of Uganda, Yoweri Museveni was in Tanzania for bilateral trade discussion with his Tanzanian counterpart John Pombe Magufuli.
They are expected to discuss various issues affecting trade relations between the countries and the region. The second Joint Permanent Commission (JPC) that will be held in Kampala will also be discussed.
JPC is going to review the implementation of decisions agreed upon in various sectors including the East African Crude Oil Pipeline and proposed gas pipeline from Tanzania to Uganda.
The President's visit to Tanzania is a follow up on commitments made by East African leaders months ago during the last Northern Corridor Integration Projects (NCIP) summit.
Tanzania is one of Uganda's largest trading partners with trade volumes (imports) from Tanzania
in excess of sh700b in 2017.
In 2010, the six East African Community member states endorsed the Common Market Protocol which recommended zero tax on goods manufactured within the region.
Through the northern corridor summits, an initiative started by presidents of Uganda, Kenya, and Rwanda, the countries have been pushing for the removal of tariffs and charges on consumer products.
The countries have been advocating for the removal of barriers to cross-border transactions and service in such areas as finance, telecommunications and transport.
Uganda maintains sound trade and diplomatic ties with Tanzania and the two countries have recently signed agreements to boost trade and investment in energy, infrastructure and oil and gas.
Producers of goods such as steel, edible oil, sugar, and iron products and mineral will have to between 10 and 35% access the Tanzania market.