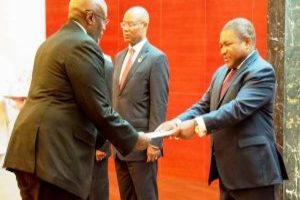 Tanzania's booming relations with Uganda have improved the ease of doing business and increased cross-border movements of people, a high ranking official said Wednesday night.
Uganda's Ambassador to Tanzania Mr. Richard Kabonero stated that the recent Joint Permanent Commission and business summit held in Kampala recently strengthened bilateral and trade ties of the two neighbors.
"A number of critical agreements covering trade, railways etc have been signed between Uganda and Tanzania," said Mr. Kabonero, adding, the agreements have "significantly reduced the cost of doing business."
Mr. Kabonero spoke today at celebrations to mark Uganda's Independence Day in Dar es Salaam, Tanzania.
The colorful function saw guests treated to thrilling cultural music and dance.
Tanzania Communications Minister Harrison Mwakyembe praised Uganda's relations with Tanzania which he said "continue to grow from strength to strength" as evidenced by landmark bilateral trade agreements signed recently.
"The Independence of Uganda means a lot to the people of Tanzania … with whom we share strong historical linkages," said Mr. Mwakyembe.
Mr. Mwakyembe said infrastructural developments in Tanzania such as the construction of the railway line are partly aimed at boosting connectivity with Uganda.
He further hailed Museveni for launching the Julius Nyerere Leadership Centre at a colorful ceremony held in the University Main Hall on October 6.
The Purpose of the center is to develop a lasting legacy for learning and leadership development in Uganda and on the African continent, through all legal means of dissemination of knowledge, including but not limited to public debates, research, documents, and training.
The Centre, launched in partnership with the Uganda Management Institute (UMI) will also promote a community of academic expertise and youth engagement in governance and leadership in Africa.
Mr. Mwakyembe said Museveni's gesture was appreciated as the center would inspire a new crop of leaders to emulate Nyerere.
Ugandan radio personality Marcus Kwikiriza was Master of Ceremonies at the event graced by Diplomats, businessmen, army officers and Ugandans living in Tanzania.