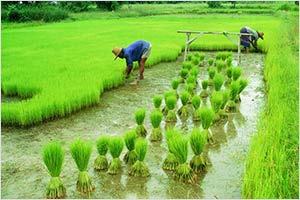 The European Union (EU) and the government of Tanzania on Tuesday have signed a 103.5-million-Euro financing agreement to improve productivity in the agricultural sector.
A joint statement by the EU and the government of Tanzania said will focus on horticulture, coffee and tea to improve agricultural productivity.
"Under the agreement the EU will provide 100 million Euro and implementing partners will contribute 3.5 million Euro," said the statement seen by Xinhua.
The statement said the agreement called AGRI-CONNECT was aimed at contributing to inclusive economic growth, promoting private sector development and job creation, and to increase food and nutrition security in Tanzania.
It said agriculture remained central to Tanzania's industrialization drive as articulated in the government's five-year development plan and the recently adopted Agricultural Sector Development Plan Phase Two (ASDP II) launched by President John Magufuli in June this year.
The statement said AGRI-CONNECT will contribute to catalyzing industrial growth rate from the current 3.7 percent to above six percent by 2022.
This will also increase in agricultural productivity to form the basis of the country's industrialization push and employment creation. An important budget will also be allocated to upgrade the network of rural roads in selected villages, Indeed there will be important opportunities for increased export volumes and revenues, including from premium markets.