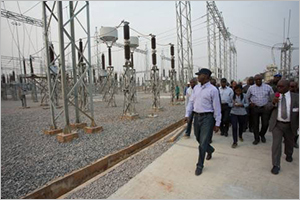 The financing will facilitate private sector development and rollout of off-grid solutions, also installation of dedicated power systems for Federal Universities thus supporting rural electrification efforts in Nigeria.
The Africa Growing Together Fund (AGTF), a $2 billion facility sponsored by the People's Bank of China and administered by the African Development Bank, has also approved a $50 Million Loan to the Federal Government of Nigeria to co-finance the project.
The Federal Government of Nigeria's efforts to address critical energy access deficit in the country and catalyze achievement of universal energy access by 2030 targets. This is a major support by the joint financing from the Bank and AGTF.
Understanding the importance of projects that leverage private sector investment into energy access solutions, The Bank's Vice President for Power, Energy, Climate Change and Green Growth, Amadou Hott, welcomed the Board's approval of NEP.
The NEP is aligned with the African Development Bank's New Deal on Energy for Africa and The Bank's Climate Change Action Plan. The project is further cooperated with the Federal Government of Nigeria's Rural Electrification Strategy and Implementation Plan (RESIP), and the Power Sector Recovery Programme whose objective is to increase private investments into the energy sector.
The main objective of NEP is to lessen the risk and boost up private sector investment in the off-grid sector. The African Development Bank, operating both within the framework of NEP and in the context of its other initiatives in the country's energy sector, will work with public and private sector stakeholders to encourage the development of an ecosystem that is conducive to facilitating the rapid, effective and commercially viable electrification of Nigeria's off-grid communities.
By increasing access to affordable electricity at Federal Universities through hybrid power plants that reduce heavy reliance on diesel generators, NEP will also create jobs, and impact the Federal Government of Nigeria's broader education sector goals.
Commenting on the Board approval, the Managing Director of the Rural Electrification Agency, Damilola Ogunbiyi, said: "We are extremely pleased with the African Development Bank's decision to support NEP. By supporting the electrification of unconnected and underserved communities, NEP will contribute materially to their economic development.