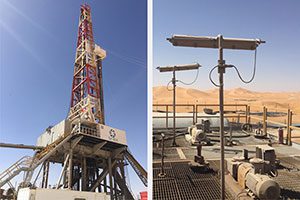 Chikumbi-1, which will be drilled to a total true vertical depth of 3,485m, will fulfil one of two remaining exploration commitment wells and is intended to be completed as a producing well in a future development programme.
The well will have two primary targets: to further describe the Ntorya Gas Field (which is projected to experience stratigraphically confined Albian aged reservoirs, approximately 120 meters up-dip from Ntorya-2 and approximately 195 meters up-dip from the Ntorya-1 discovery well) and to test a deeper, stratigraphically confined Late Jurassic Exploration target.
The Company has finalised the Chikumbi-1 executive drilling and completions programmes, has identified and selected the service companies required to operate all features of drilling and based on a competitive compassionate process, has selected Sakson Drilling and Oil Services DMCC to drill the Chikumbi-1 well.
Sakson Drilling and Oil Services DMCC has also identified and designed an accurately 220 km2 3D seismic programme over the Ntorya development area.
Further, Aminex says it has signed a conditional array sharing agreement with Heritage Oil Limited in Tanzania in order to reduce mobilisation/demobilisation costs for both parties.
Untill the successful completion of the Farm-out, Aminex will be fully carried through to production, which will include the drilling of multiple wells, seismic acquisition and construction of associated infrastructure.
The Chikumbi-1 well is located within the Mtwara Licence of the Ruvuma PSA, in Southern Tanzania, roughly 4 km west of the successful 2017 Ntorya-2 appraisal well, in the onshore portion of the Ruvuma Basin.