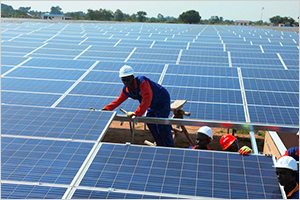 After the launch of the 24MW solar plant in Kabulasoke in Gomba District, it has been announced that there are more solar power plants to be built.
Xsabo Group CEO David Alobo, has declared, the company which forms part of the consortium that achieved the development of the Kabulasoke solar power park, is planning to invest $200 million in the generation of solar power to supply to the national grid, its According to The Independent, Alobo said the company plans to implement similar projects in Soroti (50MW), Mubende (50MW), Kasese (20MW), and Lira (10MW).
The commencement of the development work in Mubende is expected in April this year followed by Soroti and others.
The Kabulasoke power project is laid on a 120-acre piece of land with a 20-year generation concession issued by the industry regulator, Electricity Regulatory Authority.
The company would monetize its electricity to Uganda Electricity Distribution Company Limited at $11 cents.
Households that are surround the projects will benefit through land compensation and free electricity connectivity to the nearby schools and health centres, Alobo has assured
At the end of this year the state minister for energy and mineral development Simon D'Ujanga said the country will have 120MW of solar energy connected to the national grid.