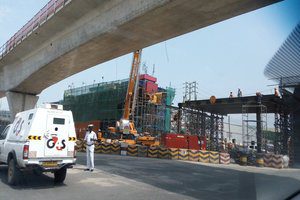 A US $250m contract has been signed by the Tanzania National Roads Agency (TANROADS) with Japanese-based Sumitomo Mitsui Construction Company (SMCC) to construct a four way bridge along Bandari Road of Gerezani in Dar es Salaam City.
Speaking during the signing ceremony, Tanroads' Chief Executive Office Mr. Patrick Mfungale said that the deal will be funded as grant by Japan International Cooperation Agency (JICA).
He said that US $222m will be spent on the contractor while US $28m will be spent on Ingerosec Corporation of Japan, the consultancy company for the project. However they will have to source funds from the third phase of the Bus Rapid Transit (BRT) to complete the bridge since the current funds will not be sufficient.
Four way bridge project
The bridge project entails of a four way that will replace the two way currently used to reduce traffic volume in Dar es salaam city. The will be 40-metre long and 30-metre wide allowing expansion of the highway into six lanes.
The development venture involves construction of a four way bridge that will supplant the two way bridge which is used at present used to decrease traffic volume in Dar es salaam city. The bridge will be 40-meter long and 30-meter wide permitting expansion of the interstate into six lanes.
The new bridge's design can accommodate the Standard Gauge Railway passing under it and a new service route for the Bus Rapid Transit (BRT). The project is replied upon to be finished in two years time. More than 400 jobs will be created during construction period.