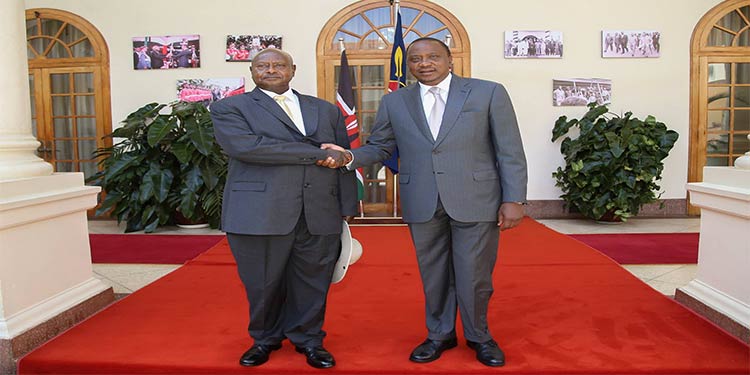 Kenya and Uganda signed huge trade deals in order to boost their trade. The colourful signing ceremony was conducted at the Kenyan coastal city of Mombasa which was witnessed by President Museveni and his counterpart Uhuru Kenyatta.
Ugandan and Kenyan traders will be the substantial inheritors after their two countries signed a raft of agreements meant to ease trade, cement political ties and improve their social/cultural connections.
The agreements, arranged into three major categories, that is defence, trade and social affairs, focus on not only easing means of doing business between the two countries but also solving some of the sticking issues that have obstructed the trade.
Like for example, the pacts direct Kenya to consider rise of its sugar quota imported from Uganda from the current 36,000 tonnes to 90,000 tonnes.
Uganda has been tasked to formally place a request to this effect that would create market for at least 54,000 metric tonnes of its surplus 90,000 metric tonnes it produces annually.
While the beef exporters in Kenya can expect to tap into the Uganda market after the latter was directed to lift its ban on beef and beef products from Kenya with immediate effect.
The poultry industry in Uganda will also have a reason to be happy after Kenya agreed to remove the ban on poultry products from Uganda within a week, dependent on Ugandan authorities furnishing them with required information making a case for the decision.
For dairy producers in Uganda, it should be good news once Kenya agreed to do away with a host on non-tariff barriers that were affecting their exports. Like for example, they will no longer need permission from the Livestock Department of Kenya to export milk to the neighbouring country.
Another sector set to profit are the tile makers after it was agreed that a joint verification of their quality be conducted within two weeks and thereafter they can be exported to Kenya.
Both countries' revenue authorities have also been directed to work jointly in imposing land and lake patrols, continue improving the single customs system at borders, and closer cooperation of revenue officers at the coastal city of Mombasa.
Foreign Affairs Minister Sam Kutesa headed the Uganda team while his Kenyan counterpart, Monica Juma, headed her country's team.