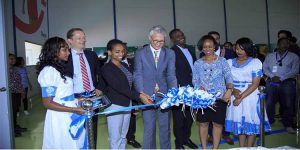 A multinational consumer products manufacturing company "Uniliver" has inaugurated a factory in East Industrial Zone in Dukem, Oromia Region, which produces its toothpaste brand –Signal.
For past many years, different products and brands of the products of the company such as, Lifebuoy soap and Signal toothpaste have been in the Ethiopian market.
For the past few years the company has also been producing Lifebuoy soap in Ethiopia.
Uniliver has been producing nine kinds of products, including soaps and powder soap in Ethiopia.
In order to cut its import bill through import substitution the government of Ethiopia has been providing incentives for investors in the manufacturing sector.
The company based in London and Amsterdam has many branches all over the world and over 90 factories.
The factory has created 100 jobs and more that 500 participate in the distribution of its products.
The British-Dutch multinational consumer goods company has been producing hygiene and personal care products for many years.
Unilever CEO Paul Polman, who met the former Prime Minister of Ethiopia Hailemariam Desalegn in January 2017, the company has a plan to engage in tea production in Ethiopia.