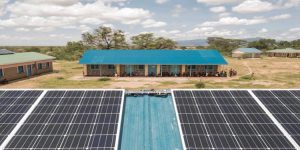 The Government of Kenya has started working on an ambitious project that would ensure consistent supply of solar energy power and cash transfers to over a million Kenyans in 47 counties.
The programme has been named as Mwangaza Mashinani and is being funded by the Swedish government and Unicef.
The programme will kick off with the implementation of two pilot projects in the Kilifi and Garissa counties of Kenya for which the Swedish government has donated Sh100 million.The project in Kilifi is expected to be completed within a years time.
Anna Jardfelt, the Swedish Ambassador to Kenya who oversaw the launch after touring some villages, said the electricity generated from the project is intended to reach to the poorest communities.
She also went on to say, "We were looking at the number of households in the community, so there were a number of criteria. It took a long time before we could identify these two counties but together with Unicef we managed".
In the pilot phase, 1,500 households from the two counties would benefit from this programme.
"We are today launching the project but in one year we will be evaluating to see how it has worked out. If it succeeds we will also reach out to other counties," she said.
These families from the households benefited from this project will be given a top-up to their cash transfer which would enable them to purchase a basic solar home system or solar lanterns, with different payment models currently being tested.
The households will also be supported to maximise the use of the systems and create opportunities for income-generating activities and a behavioural change strategy will target suitable stakeholders.
Since the project was introduced in Kilifi , hopes were high that vulnerable families will get a new lease of life. School going children would also be able to study at night using solar power.
Kilifi Deputy Governor Gideon Saburi and his Garissa counterpart Abdi Dagane who were present at the launch,later signed an MoU on the project.
Mr Saburi said as a county, they are elated with the project, as the targeted area is a secluded one which never expected this kind of development.
He also said, "It may not look like a big thing but for the locals, this is a big step forward".
In Kilifi County, over 30,000 people will benefit from the Mwangaza Mashinani project.