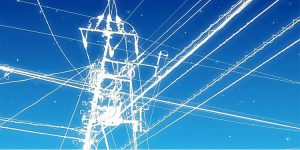 An agreement is signed between Ethiopia and China, wherein they partnered in order to invest in energy transmission and distribution lines for the nation's mega projects.
The project will build power transmission and distribution lines to 16 industrial parks, part of the Meqelle to Djibouti railway line and to other cities in the country.
Prime Minister Abiy Ahmed (PhD) met with President Xi Jinping of China during his visit to Beijing for the second Belt & Road Forum for International Cooperation, held two weeks earlier.
In this partnership that includes 1.8 billion dollars in investment, State Grid Corporation of China (SGCC), will be holding a majority share, 80pc, while the remaining interest will be held by Ethiopian Electric Power (EEP), as per the source close to the case.
The plan also calls for revenue sharing between the two partners.
Established in 2002 as a state corporation, SGCC is not new in Ethiopia.
It was awarded the 1.5-billion-dollar construction project for the power transmission line of the Great Ethiopian Renaissance Dam that has a total length of 1,136Km.
According to Moges Mekonnen, communications director at the EEP, Ethiopian Electric Power conducted the practicality study of the new energy transmission and distribution lines project.
EEP identified 29 energy projects to be developed via a public-private partnership arrangement with a total investment of 1.26 billion dollars.
These projects are composed of building power supply and distribution lines to Aqaqi Industrial Park, Ambibarah Industrial Park, Adama Industrial Park, Meqelle Industrial Park and Bure Agro-Industrial Park among others.
Ethiopia has invested 30 billion Br in constructing 11 industrial parks all over the country.
Seventeen more non-segregated agro-industrial parks are in the pipeline.
According to former Prime Minister Hailemraim Desalegn, who reported these figures to parliament two years ago, said that, "after completion, these parks would require a power supply that is equal with the present generating capacity of the country."
Considering electric power is a binding limitation in the industrial sector, the government has established a separate directorate under the Industrial Park Development Corporation to oversee power supply and distribution.
The industrial parks will also have their own industrial power managers.
This agreement will make it easier not only undisturbed power supply but also allow the creation of jobs.
Tigabu Atalo, an energy consultant for over a decade, sees the partnership as a wise investment, stating that energy is the chief enabler of economic activity.
Tigabu Atalo, said, "For Ethiopia, the industrial parks are going to be the economic and production centres."