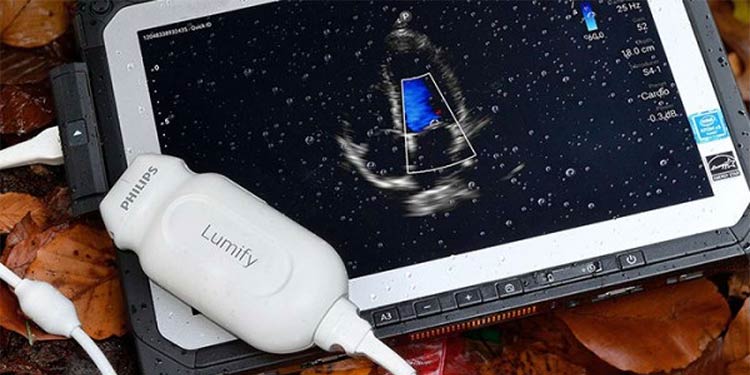 Philips has launched its highly innovative Lumify with Reacts mobile tele-ultrasound solution in Nigeria at Medic West Africa, West Africa's largest healthcare event.
This is designed to enhance the reach of ultrasound applications to a broader network of healthcare providers, as well as helping to improve care and reduce costs, Philips' Lumify ultrasound ecosystem brings together mobile applications, advanced ultrasound transducer technology, IT, training, education and support services into a fully consolidated subscription-based tele-ultrasound solution.
"Lumify's unique combination of connectivity, simplicity, portability and flexibility allows clinicians to perform ultrasound examinations across a variety of clinical settings, from cardiology suites down to under resourced semi-urban and rural areas," said Jasper Westerink, CEO, Philips Africa.
This innovation in tele-ultrasound brings many new possibilities to users both inside and outside hospitals.
"Finally, clinicians as well as family doctors at small outpatient clinics can perform scans themselves, speeding up the diagnosis process and possible treatments".
Philips is a leader in ultrasound solutions with a large global installed base and a strong track record of industry-first innovations in areas such as 3D imaging of the heart, quantification tools driven by Anatomical Intelligence, and ultra-mobile portable ultrasound solutions.
Lumify with Reacts connects clinicians across the globe in real time by turning a compatible smart device into an integrated tele-ultrasound system, combining two-way audio-visual calls with live ultrasound streaming.
All that is needed at the point of care is an suitable Lumify ultrasound probe connected to a smart connected device, such as a tablet computer, with the Lumify with Reacts app installed.
Its ultrasound portfolio supports the effective and efficient delivery of care across a broad range of clinical specialties that includes radiology, cardiology, point-of-care and obstetrics/gynecology.
"The versatility, portability and safety of point of care ultrasound, has made it one of the most extensively used first-line diagnostic tools," said Dr. Wale Olusanya, Center Manager of the BT Health and Diagnostic Center of the Lagos State University Teaching Hospital.
"In a resource constrained environment, technology like Lumify can enhance referral pathways affording quick diagnosis in emergency departments in major towns, or with time even in more remote areas improving patient outcomes".