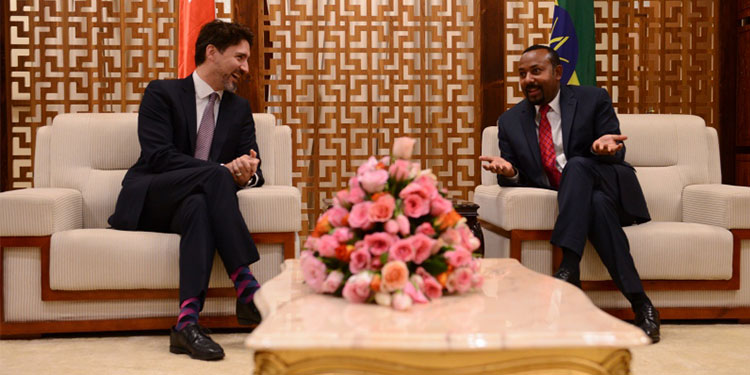 Canada Prime Minister Justin Trudeau gave a visit to Addis Ababa to meet the Prime Minister Abiy Ahmed and President Sahle-Work Zewde.
Trudeau says this tour is about more than just the UN and told both Abiy and Zewde he sees tremendous potential for Canada and Ethiopia to help each other grow.
He noted that Canada and Ethiopia are preparing to start negotiations towards a foreign investment protection agreement.
He spent more than two hours with Abiy, including more than an hour in a private tour of a new public park and zoo on the grounds of the prime minister's residence.
He also had a working lunch with Zewde at Jubilee Palace.
Ethiopia is the fastest growing economy in Africa and one of the five fastest in the world.
"This visit is a chance for us to take our partnership and our friendship to the next level. We have a phenomenal opportunity before us", Trudeau said.
Trudeau told Abiy he is "much more interested" in building economic partnerships going forward.
Trudeau also disclosed a $10-million contribution to the African Union Commission for gender equality and women's empowerment. He gave a speech at a breakfast hosted by the African Union and the funds were well-received by the mostly female audience. Trudeau is the first Canadian prime minister to attend an African Union event.
Abiy told Trudeau that Ethiopia is thankful for the diplomatic relationship between the two countries, which began more than 50 years ago.
"We are very much grateful about it," he said.
Trudeau also met with African Union Commission chair Moussa Faki Mahamat, Rwandan President Paul Kagame and Ulisses Correia e Silva, the prime minister of Cape Verde.