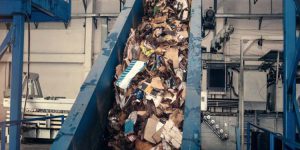 Zoomlion is gradually moving towards its goal of installing waste treatment plants throughout Ghana. The company, which manages waste in several cities in this West African country, plans to equip the northern region with two waste treatment centers.
According to Zoomlion, one of the waste management plants will be used to treat liquid waste while the other will be involved in the recycling of solid waste.
Zoomlion says that the construction of the liquid waste treatment plant will require an investment of US$17.78 million while the one for solid waste management will be constructed at a cost of US$23.71.
Joseph Siaw Agyepong, the CEO of the Jopson group of companies (of which Zoomlion is a member) says the plants will help reduce the sanitation problems observed in Ghana, particularly in the Northern Region.
Zoomlion reports that 12,710 tons of solid waste is produced every day in Ghana, 67% of which is biodegradable.
More of the reports however indicate that the Country produces about 22,000 tons of solid waste every single day.
Much of the waste usually ends up in dumpsites with a significantly smaller portion mainly made up of plastic being recycled.Liquid waste management on the other hand, continues to be a challenge for Ghanaian authorities.
According to Anoff Amoaning-Yankson, immediate Past President of the Ghana Institution of Engineers, some 36 liquid waste treatment plants dotted across the country have broken down and are rotting away.
Because of this, Amoaning-Yankson said sewage waste from homes especially in urban areas such as Tema were being directed into the sea, a practice, which according to him, left much to be desired and deserves immediate government intervention.
Zoomlion's waste management projects will thus help address this challenge by providing adequate and environmentally friendly waste management solution to the northern part of Ghana.
According to the utility company, work will commence in December 2020 with expected dates of completion being 4 months after the start date for the solid waste processing plant and 15 months for the liquid waste management plant.