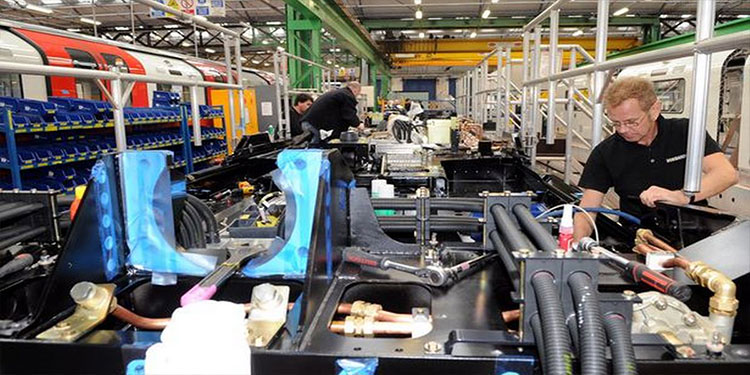 The Government of Egypt has partnered with Bombardier International, to discover possibilities of establishing a new factory to manufacture railway vehicles, metros and monorails.
Bombardier is one of the world's largest companies in the rail vehicle and equipment manufacturing and servicing industry. The company's rail equipment division, Bombardier Transportation, is based in Berlin German and produces a wide range of products including passenger rail vehicles, locomotives, bogies, propulsion and controls.
According to a report, a company has already been established, providing ground for the establishment and operation of the railway manufacturing factory.
It is also revealed that company will be in partnership with the Suez Canal Economic Zone, the Egyptian Sovereign Fund and the Bombardier International Company.
The aim behind establishing the factory is to develop a train industry in Egypt to support Egypt's railway network which plays a significant role in the Egyptian economy and is an essential mode of transport for low-income Egyptians. The network which is approximately 6,700 kilometres one of the largest in the Middle East and North Africa.
It has total of total traffic (passengers and freight) of over 68 billion traffic units, which exceeded the combined traffic of railways in Algeria, Iran, Morocco, Tunisia and Turkey.
In line with the railway strategy, Egypt in 2018, signed a contract with the Russian-Hungarian Transmach holding Company for supply 1,300 train coaches to the Egyptian National Railways.
According to Egypt's Minister of Transport, the US$1.37 billion contract is the largest contract for railway passenger vehicles in the history of Egyptian Railways Authority.
The 1,300 new passenger vehicles deal includes 800 air-conditioned vehicles 500 of which are third-class air-conditioned vehicles, a new service that is offered to passengers for the first time in the history of Egypt Railways.It also comprised of 180 luxurious second-class vehicles, 90 luxurious first-class vehicles and 30 air-conditioned buffet cars.
The new factory will help the country reduce this need for importation of key railway infrastructure and cater for Egypt's local needs as well as exports to countries in Africa and the Middle East.
Implementation studies related to the factory are currently underway, so that once the factory is established, a group of factories for complementary industries for trains manufacturing will ensue.